COMPASS:  Community Participation to Advance the Sickle Cell Story
DID YOU KNOW? Sickle cell disease has helped to shape and define medical/scientific breakthroughs for over 100 years. Research using sickle cell as a model has even led to a Nobel Prize in Chemistry.
Our job is not done!  The patients, caregivers and community-based organizations of the Sickle Cell Consortium are pleased to present: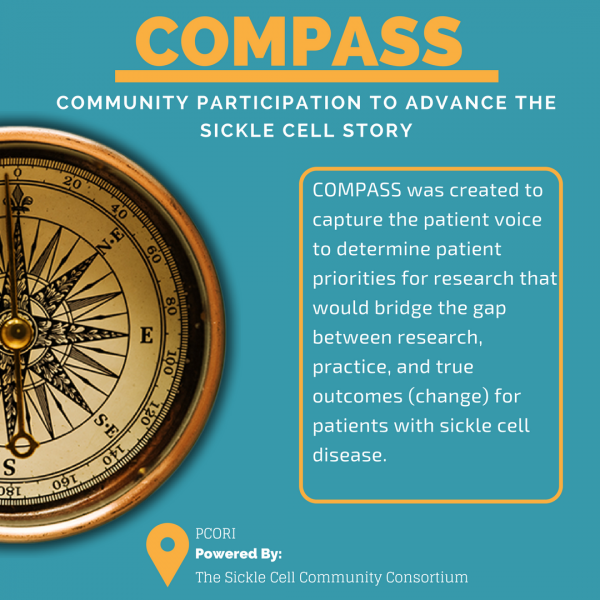 COMPASS was designed to provide a platform to directly involve the sickle cell patient and caregiver community in patient-driven research. All projects, initiatives and platforms of the Sickle Cell Community Consortium are created and powered by the sickle cell "warrior" community. Birthed out of community desire to have a seat at the table (and not just a voice in the crowd), this initiative engages our existing network of community-based organization (CBO) partners and extensive database of registered patient/caregiver advocates, to generate a list of patient-identified research priorities and CER questions through engagement, education and empowerment. The findings will be used to inform researchers, physicians, policy makers, funding agencies, community-based organizations and other entities about the research needs of sickle cell patients using the patients' VOICE and prepare sickle cell CBOs for participating in CER research projects.
WARRIORS – TAKE THE SURVEY TO DEFINE THE RESEARCH THAT MATTERS TO US!
                      The Survey launches FRIDAY, SEPTEMBER 14, 2018!